A Heart Journey
(Download Printable Version)
"And they heard the sound of the LORD God walking in the garden in the cool of the day."
Genesis 3:8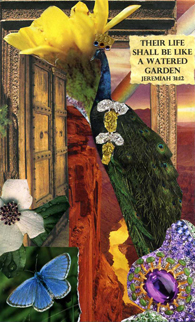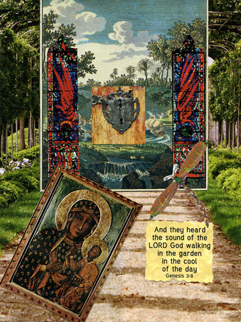 (Inspired Collage™ cards are made from recycled images and are for personal enrichment only.)




Inspired Collage™ A Walk in the Garden with the LORD Workshop:



The Garden of Eden is more than a place; it is also a way of life and a state of the soul. Because God himself planted the Garden of Eden (Genesis 2:8), there is something prescriptive about going there. Join us to take this interactive meditative/collage walk in the garden of God.

The garden is a well-spring of life. Learn how to meet God in your garden.
Become a "garden tender" ~ grow abundant fruit.
Walk on ancient paths and find rest for your soul.
The garden is a place to let go of your burdens and receive from God.
Treat yourself to a mini-retreat ~ a spa for the soul.
A time to reflect, journal and collage. All materials provided.
Watch the Video!
The Inspired Collage™ Workshops:



Inspired Collage™ a mini retreat – a spa for the soul. It is a kaleidoscopic blend of practices inspired by Scripture, journaling, meditation, and love for beauty and art. Through the power of images and self-discovery you craft your visual life-journal, creating deeper intimacy with God, yourself and others.(Let your imagination fly upon the truth.) You will take home with you a uniquely crafted card and a creative practice that can be used for your personal Scripture meditation and continued growth.



The Inspired Collage™ Sessions:



Our time together includes a presentation regarding the theme of the session, the art of Christian meditation and the practice of collage making. Time is given for journaling and connecting with God. You will then choose a Scripture and images. During the session a feast of images will be provided. You will find yourself gravitating toward images that have a personal meaning for you. Through a process of discovery and revelation, adding and subtracting, a larger story, an illuminated image emerges from the layers.

At the end of the workshop, participants will have the opportunity to share their crafted cards and their experience. A safe place is provided for sharing. Come and experience the richness of fellowship.

What is provided: Materials/Images for creating collages, journal sheets, four-steps to Christian meditation, card stock, scissors, glue, and a rich atmosphere in which you can create your masterpieces.



Peggy is a licensed Marriage and Family therapist in San Francisco, CA. She spent several years as a missionary with YWAM involved in counseling and healing to the nations. Peggy is passionate about her Christian faith and finds great joy helping others unlock the treasures that are placed in them. Her desire is to use Scripture and art for healing. Peggy is an inspirational speaker and has created Inspired Collage™ Workshops. Workshops are available for church groups, woman's retreats and other Christian gatherings.



Contact Information:
~ E-mail Inspired Collage ~
Or Call: (415) 810-6574
Peggy's professional private practice website: www.redecorateyourlife.com